This page takes you to information on famous Americans, living and dead, who are readily associated with their Norwegian ancestry -- such as Walter Mondale, Sonja Henie and Knute Rockne -- and those who aren't, such as Earl Warren and Marilyn Monroe.


---

We've stopped taking new questions, but there's a wealth of information about in the form of responses to questions about the Kingdom of Norway that were e-mailed from 1998-2000. Topics include bunads, solje, bringing pets to Norway, and how to type Norwegian characters like ø and å.



---
Click below for the

---
Links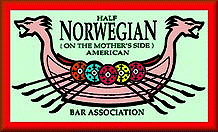 Click on the icon to visit the website of a jovial Los Angeles-based group of lawyers and judges. Meets on Norwegian Independence Day (May 17).

SPEECHES: "Norwegians in Hollywood" | "A Half-Norwegian Looks at Newsroom Searches" | "The Half-Norwegian of One First Street--a Look at Chief Justice Earl Warren" | "Bjarni and Leif Discover America" | "Norway's Two Independence Days" | "A Scot Looks at the Norwegian Legal System" | "An Irishman Searches for His Roots in Norway" | "Who Really Discovered America, Eh?"
Biographies of Niels Abel, Roald Amundsen, Bernt Balchen, Bjørnstjerne Bjørnson, Leif Ericson, Kirsten Flagstad, Ragnar Frisch, Ivar Giaever, Edvard Grieg, Sonja Henie, Thor Heyerdahl, Henrik Ibsen, Walter Mondale, Edvard Munch, Fridtjof Nansen, Lars Onsager, Knute Rockne, Marta Sandal, Eric Sevareid, Jan Stenerud, Liv Ullmann, Sigrid Undset, Thorstein Veblen and Earl Warren and others.
•
Reflections on May 17
By Oswald I. Gilbertson

---
CLICK HERE for origins of the site and how to contact us.


Entire website copyright 1997-2007, Roger M. Grace. All rights reserved.