---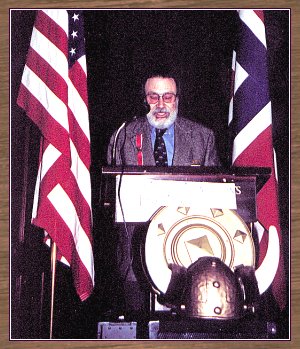 ---

By Kenneth Chotiner

---


(The following remarks were delivered on May 17, 2001 at the annual meeting of the Half-Norwegian (on the Mother's Side) American Bar Assn. by Chotiner, a member of the Los Angeles Superior Court, who was slated to retire from that post on May 31.)



Earl Warren's father was Norwegian. His mother was Swedish. Thus, arises a conundrum. Opening information on the official web site of this organization states, "Past presidents of the organization include the likes of Court of Appeal Justice Earl Johnson Jr. Johnson, it must be confessed, is not half Norwegian on his mother's side. He is, rather, half Norwegian on his father's side. That does make him somewhat of a misfit in the organization. Those who are half Norwegian on the father's side really ought to form an organization of their own."
So, why is it, eminent founder, that we, today, are honoring this great personage as one worthy of the Half Norwegian (on the Mother's Side) American Bar Association?
Warren's father was born in Haugesund, a little maritime city in southern Norway. His grandfather was a small farmer who lived a mile or two from the city. The family emigrated to America when his father was only a few months old, and his uncle, Ole, was two. Like so many Scandinavians, they went directly to the open spaces in the Middle West. Warren wrote that this was characteristic of the Scandinavians, and although several million of them came to this country, very few of them landed in the ghettos of the big cities. They did not come here to participate in the industrial revolution. They chose immediately the parts of the country which were most like their native lands, so they could pursue their accustomed callings. They went to Minnesota, Wisconsin, the Dakotas, Nebraska, Iowa, and Illinois. Most of these were frontier states a little over a century ago. The family located first in Leland, Illinois, and then in Eagle Grove, Iowa.
His father went to school through the seventh grade, and then he and his brother, Ole, moved to Chicago. While there, Ole contracted tuberculosis and died in his brother's arms on Christmas Eve. Having lost the one most near and dear to him, and being broke in a strange city, Warren's father later told him that he then swore that as long as he lived he would never be broke again; that no matter how little he earned he would save something. That became the guiding principle of his life. He would say, "Earl, saving is a habit like drinking, smoking or spending. Always save some part of what you earn." From Chicago, he went to Minneapolis and married Warren's mother. They then moved to California, first to San Diego, and then to Los Angeles.
Warren's mother was born in the province of Hälsingland, Sweden, not far from Sundsvall. Her family's name was Hernlund. They had owned their farm since at least 1607, and probably far beyond that date into the dim past. However, the Stockholm archives only went as far back as 1607. His mother had sailed from the nearby fjord to the United States as a babe in arms in 1866. Earl Warren's wife had, coincidentally, also been born in Sweden, in the little city of Visby on the island of Gotland in the Baltic Sea. It is a centuries-old place and is said to be the only walled city of Northern Europe remaining intact.
When Warren entered school, he became conscious of the fact that the other children all had middle names or initials, and his sister and he had neither. He asked his father, "Dad, how does it happen that all the other children have middle names and sister and I don't?" He thought for a moment, and then said, "My boy, when you were born I was too poor to give you a middle name."
Warren served just short of 16 years as Chief Justice of the US Supreme Court, 1953-1969. Only four Chief Justices served longer: John Marshall (34 yrs), Roger Taney (28 yrs), Melville Fuller (21 yrs), and Warren Burger (17 yrs). He is tied with William Rehnquist. The first Protestant to serve as Chief Justice, he was born in 1891, in Los Angeles and died in Washington, D.C., in 1974.
A great deal of Warren's free time as a boy was spent in Bakersfield with his animals -- house dogs and hunting dogs, a sheep, an eagle, pet chickens, rabbits, and a burro -- Jack -- his best friend and companion for years.
Bakersfield had a reputation for being the roughest and most hellish city of its day, worthy successor to Virginia City, Abilene, Dodge, Deadwood, Tombstone. Bodie and other western boomtowns noted for their vice and violence. It was a wild and wooly city at the time he entered high school in September 1903. Oil had been discovered along the Kern River in 1899, and the boom was in full swing. When he graduated, there were 16 in the class; only four went to college.
He worked his way through college and received his LL.B from UC Berkeley. His first job in public service was as a clerk of the Judiciary Committee of the California State Legislature. He then served in the Oakland City Attorney's Office. This was followed by 14 years as District Attorney of Alameda County, then four years as Attorney General, 11 years as governor, and his tenure as Chief Justice, from 1953 to 1969.
The Chief Justice wrote that all of his public offices carried with them potentialities for controversy, unless the officeholder was willing merely to float with the tide. "Such an approach never appealed to me," he wrote, "with the result that I was usually in controversy with some element -- not personal or partisan political controversy, but what might more properly be called `issue controversy.' From every such experience, I believe I learned something that cold be fitted into some phase of my work as Chief Justice."
In the 1942 Gubernatorial election, Earl Warren was the third choice. Los Angeles Mayor Fletcher Bowron & UC President Robert Gordon Sproul had declined the Republican party's nomination. A so-called draft was engineered by "Silk Hat Joe" Knowland, former Congressman, owner of the Oakland Trib, and the father of then-to-be Senator William F. Knowland. One of Warren's key political operatives was McIntyre Faries, later to become a Los Angeles Superior Court Judge.
Warren had serious misgivings about becoming governor. As Attorney General, his annual salary was the grand sum of $11,000. As governor, he would be taking a $1000 pay cut. The family was on a tight budget, with six children in school. Warren announced he was going to accept a commission as a colonel in the army.
In March, 1942, he gave in. Governor Culbert Olson had to be defeated. Olson? Is the subject of the Syttende Mai presentation one who ran against a fellow Norwegian?
With the attack on Pearl Harbor, Warren rose to Churchillian heights, declaring, "We are not Republicans now; we are not Democrats now. We are Americans. And we want the type of government in California that puts America first --- and all other things second."
Warren was in the public eye as District Attorney and was authoritatively declared in his day "the best in the land." As a Chief Justice, he is generally conceded to rank with John Marshall and Charles Evans Hughes as one of the three greatest in the Court's history.
In spite of his liberal ground-breaking decisions, Warren always considered himself a moderate.
He was an enormously warm and genial person, a man who made friends easily in public life. "The fjord-blue eyes were usually twinkling, the massively handsome face smiling, but he was firm and commanding, independent, never a man to duck hard issues."
Warren ran for Vice President with Tom Dewey in 1948 -- this is the answer to the trivia question in our founder's web page discourse on the Chief Justice. The Dewey-John Bricker ticket had lost to FDR-Truman in the 1944 election. However, what the web page failed to mention was that three prominent pseudo-Norwegians ran for president in the 1948 election: Norman Thomas (Socialist Party), Henry Wallace (Progressive Party), and that great pretender, the standard bearer of the States' Rights Democratic Party: J. Strom Thurmond.
The phrase "The Warren Court" was coined not as a symbol of achievement or endearment, but as an indication of scorn by those who resented the 1954 Brown v. Board of Education decision.
Warren wrote in his autobiography that "President Eisenhower was widely quoted as having said that his appointment of me as Chief Justice 'was the biggest damn fool thing I ever did.' " Even Ike could be wrong.
Takk skal du ha usann halv Norsk.