At Our Last Meeting...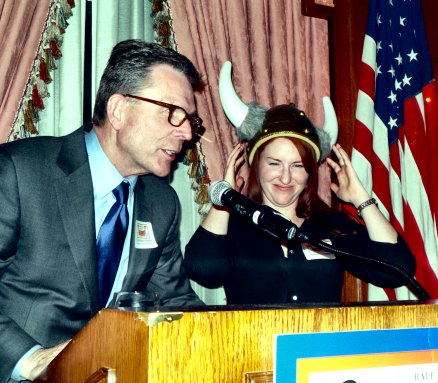 Honorary Consul General (and attorney) H. Michael Soroy is pictured
with group's new president, Deputy District Attorney Shannon Cooley
The organization held its meeting for the second consecutive year at the California Club.
The president, attorney H. Michael Soroy, honorary Norwegian consul general, spoke in connection with the Norwegian Constitution coming into being 200 years before (May 17, 1914).
Eleven candidates for the Los Angeles Superior Court offered brief remarks. It was clear that at least two of them would lose, given that two candidates in each of two races were speaking. As it happens, four lost.
Past Meetings
The idea for a "Half-Norwegian (on the Mother's Side) American Bar Assn." was hatched one night in 1989 by lawyer/journalist Roger M. Grace while his wife was attending a meeting of the Italian American Lawyers Assn. Grace pounded out a column in which he bemoaned that half-Norskies such as he had no bar association of their own, and jokingly vowed to form one, to meet every 17th of May.
A friend of his, then-attorney Larry Crispo (later a Superior Court judge), clipped the column from the Metropolitan News-Enterprise and sent it to Grace, with the suggestion scribbled on it that such a group actually meet. It did, in late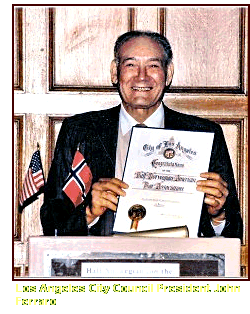 May of that year, convening at the Biltmore Hotel. Elected as the first president was then-Los Angeles Municipal Court Judge Robert Swasey (since deceased)—who was half-Norwegian on his mother's side. Swasey noted he almost didn't come, thinking the meeting announcement that he saw may have been a gag.
The president of the Los Angeles City Council, John Ferraro (since deceased), did understand that it was for real. He came with a congratulatory scroll from the city.
The question that loomed at what was billed as the "first annual meeting" was whether there would be a second annual meeting. It's met every year since.
Among those who have served as president is Earl Johnson Jr., then a justice of the Court of Appeal (now retired).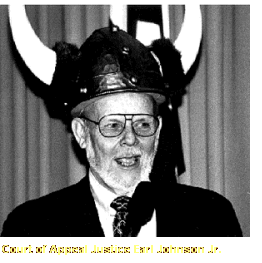 Johnson, it must be confessed, is not half Norwegian on his mother's side. He is, rather, half Norwegian on his father's side. That does make him somewhat of a misfit in the organization. Those who are half-Norwegian on the father's side really ought to form an organization of their own. The election of him in 1996 reflected just how egalitarian Norwegians are.
The election of Johnson was remarkable for another reason. It followed accusations against him of pilfering funds from the club treasury. That accusation was levelled by Fred Woods, then the club's treasurer. He did know something of Johnson's propensities, being a member of the same appeals court division.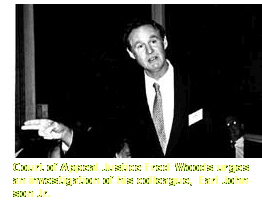 Woods reported to the gathering that there was a $10,000 deficit in the treasury and pointed the finger at his predecessor in that office, Johnson, who, he noted, had taken a recent trip with his wife, Barbara, to Italy. After the organization rebuffed Woods' call for formation of a blue-ribbon committee to look into possible malefaction by Johnson, it elected Johnson president.
Woods—who was reelected the treasurer—pledged to personally probe his fellow jurist's conduct.
At the 1997 meeting, instead of rendering the anticipated Woods Report, the treasurer was missing, and no information on the current state of the treasury was submitted by him.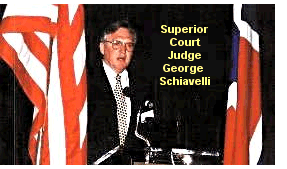 Presiding over that meeting, Vice President George Schiavelli, then a member of the Los Angeles Superior Court (later a federal judge, now a private judge), pointed out that Woods' absence "might suggest that we still have improprieties in our organization."
Precedent should be followed, he proclaimed, with the suspected defalcator being granted the presidency.
Woods was elected with no opposition. And at the 1998 meeting, he presided. Woods reported, in his native Texan drawl, that he "didn't realize the influence of the Vikings" until recently when he learned that a Viking ship was uncovered in the Canadian River in the panhandle of Texas. That, apparently, made the ol' Texas boy mighty proud to hold his office.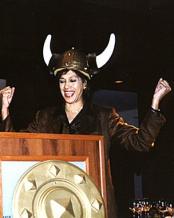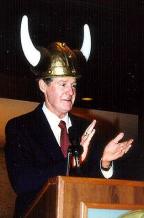 Court of Appeal Justice Fred Woods (now retired), left, relinquishes the reins to the 1998-99 president, then-Los Angeles Municipal Court Presiding Judge Veronica McBeth (later a member of the Superior Court, now retired).
Woods was succeeded as president by then-Los Angeles Municipal Court Presiding Judge Veronica Simmons McBeth. She's an African American. That is not to say that she necessarily lacks Nordic blood. The May 8, 2000 issue of Time Magazine notes that the Vikings "reached Rome, Baghdad, the Caspian Sea, probably Africa too." Africa is, after all, just south of Italy—and there is no doubt that the Vikings did reach The Boot.
The 1999 meeting featured a talk by then-Los Angeles Municipal Court Judge Michael Kellogg (elevated to the Superior Court in 2000 through unification) on football Hall-of-Famer Jan Stenerud, who was born in Norway. A stadium atmosphere was created with the serving of hot dogs—er, polser, that is. This was a first for the posh Bernard's Restaurant at the Biltmore.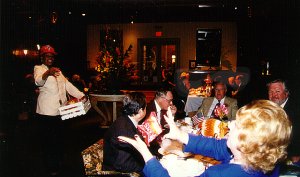 At that 1999 meeting, McBeth pointed out that among those elected at the first meeting, 10 years earlier, was Mike Smith, a non-lawyer businessman, chosen to be minute secretary. He remained at his post for 10 years, though he attended only one other meeting and never provided a set of minutes.
She suggested the important task be rotated to some other person, and recommended one of the newest members, Daniel Anderson, who then sat on the Wisconsin Court of Appeals, and is half-Norwegian (on his mother's side). He was elected to the customary 10-year term. He did not attend a single meeting and thus did not bore the attendees with a reading of minutes.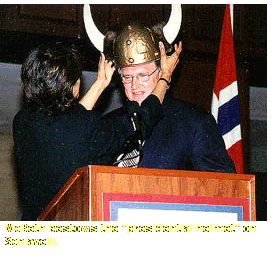 Then came Schiavelli's turn as president. He had practiced for the post by previously serving as president of the Italian American Lawyers Assn. It was fitting that someone of Italian heritage be president. After all, Italians are born followers of Norwegians. Leif Ericson discovered America, around the year 1002, and Chrisopher Columbus followed in his footsteps a half millenium later, utilizing Norse maps.
Court of Appeal Presiding Justice Paul Arthur Turner is among the regulars at these annual meetings. In 2000, he was absent. Unanimously, he was elected president.
In 2001, another regular—though many describe him as "irregular"—Larry Crispo was among the missing. Maybe his absence was a ploy to get elected president. If so, it worked.
The point was raised that Crispo had served as president previously (while an attorney). However, Turner, who was presiding, joined with Johnson in proclaiming term limits to be unconstitutional. This was probably the first time the arch conservative Turner and the arch liberal Johnson have ever been in agreement on anything.
The event, long held at the Biltmore, was in a new venue: McCormick & Schmick's seafood restaurant. The chef was Ray Hayes, who is half-Norwegian...and on his mother's side! The feast was fantastic, highlighted by lefse fresh from the griddle, served with headcheese, and gravlax which had been marinated by Hayes in aquavit.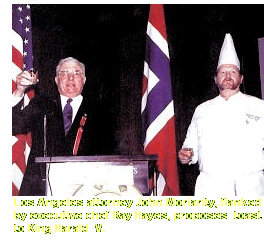 Included on an appetizer platter were shrimp, crab, oysters, and fresh caviar. The entrees were a half roasted duck and Norwegian sausage, served with red cabbage.
The chef prepared a pastry for dessert drenched in aquavit.
Hayes came out to join the group at the end of the meeting for its traditional aquavit toast to the king of Norway.
As might have been predicted, the event was again held at that restaurant on May 17, 2002, as it was for seven years after that.
And once again in 2002, the club showed its egalitarianism by electing as president a lawyer who is half Norwegian on his father's side. Charles Morgan (son of actor Harry Morgan, since deceased) came to the meeting for the first time and, naturally, was welcomed into the group by his being unanimously elected president.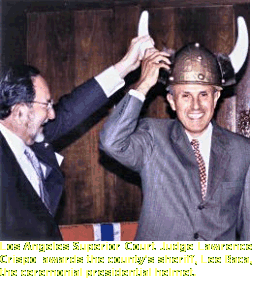 At the 2003 meeting, the guest speaker was Los Angeles County Sheriff Lee Baca. (since retired). His scheduled topic was: "That Great American Lawman, Eliot Ness." Perhaps the sheriff had a gulp of aquavit prior to his talk; he never mentioned Ness. Instead, he lauched into a stirring talk from the heart about the need for integrity in law enforcement—prompting those present to elect him president by unanimous acclamation.
Given that he's not a lawyer or a judge, his election was contrary to the bylaws. However, one prominent lawyer later suggested that the election of Baca constituted an implied amendment of the bylaws.
In 2004, Crispo once again presided. That's because President Baca didn't show up and nobody remembered who had been elected vice president the previous year. The minute secretary had not attended the meeting. These Wisconsin Court of Appeals justices are simply unreliable!
Attorney Sarah Gorman was there for the second time. She delivered a Norwegian table prayer—in Norwegian. That endeared her to the group which elected her president.
In 2005, an evening buffet reception was held in celebration of 100 years of Norway's full independence. Those attending indicated a preference for holding the annual meeting at night henceforth. (Of course, only those present, who found it convenient to come in the evening, voted; those who couldn't make it at that time didn't vote.) Cheryl Johnson, who says she is "a lot Norwegian" on her mother's side and some Norwegian on her father's side, was chosen president.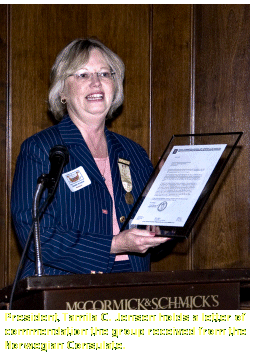 At the 2006 meeting Tamila Jensen was elected to lead the organization. She is part Danish and part Swedish. The membership no doubt took pity on her. Denmark and Sweden...so near to Norway, and yet so far. It cannot be easy going through life as an almost-Norwegian.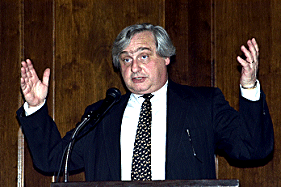 Ninth U.S. Circuit Court Chief Judge Alex Kozinski
The 2007 guest speaker was Ninth U.S. Court of Appeals Judge Alex Kozinski. He talked about his favorite topic, himself. He did not share any of the off-color jokes or cartoons that were then on his personal website. Andy Lundberg (whose mother was a Norwegian spy during World War II) ascended to the presidency.
2008: Los Angeles Superior Court Presiding Judge J. Stephen Czuleger delivered humorous remarks, and retired Superior Court Judge Ken Chotiner was elected president. Executive chef Ray Hayes, who at that point worked at McCormick & Schmick's Burbank location, made a special appearance to prepare the food for the event. For the first time, the event was audio-recorded. To hear what went on, CLICK HERE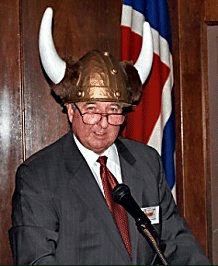 2009: The cuisine was superb...which means that Hayes was again brought in from Burbank for that one day.

The speaker was Los Angeles County District Attorney Steve Cooley who had been the subject of deprecation at the meeting seven years earlier by founder Roger M. Grace in connection with a raid of newspaper offices. But, after all, the Irish are too endearing to stay angry at. They are, as Cooley acknowledged in his remarks, blessed by Norse blood in their veins. They are beneficiaries of the visits to Norway by Vikings who, in interplay with Irish lasses, benificently bestowed their genes on them. Well, that's not quite how Cooley put it.

Cooley was elected president.

Cooley assumes presidency of group.
Entire website copyright 1989-2015, MNC. All rights reserved.