Court of Appeal
Fourth District, Div. One
Judith Haller
Associate Justice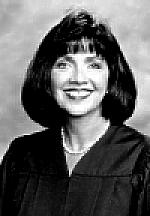 Born May 17, 1946 in Los Angeles.

B.A. (June 1967, summa cum laude), Univ. of Calif, Los Angeles
(Phi Beta Kappa; named Outstanding Senior Woman).
M.A. (June 1971, History), San Diego State College [now Univ], San Diego.
J.D. (May 1975, with Honors), Calif Western School of Law, San Diego
(Assistant Notes Editor, International Law Journal).

Admitted to State Bar U.S. Dist Court, Southern Dist of Calif, Dec 16, 1975.
Admitted to practice before U.S. Supreme Court May 13, 1985.

Appointed San Diego Superior Court Oct 30, 1989; oath Nov 22, 1989 (Deukmejian).
Appointed to Court of Appeal July 19, 1994 (Wilson); confirmed by Commission on Judicial Appointments Aug. 9, 1994.

Law Practice:
Private law practice, San Diego, San Diego County, 1979-89.
Partner (1983-89) and associate (1979-82), Higgs, Fletcher & Mack, insurance defense firm).
Deputy District Attorney, San Diego County , Feb 1976 to March 1979.
Bar Activities:
San Diego County Bar Assn, 1979-89 (past vice president).
San Diego Defense Lawyers, 1984-89 (served on Board of Directors).
San Diego chapter of the Association of Business Trial Lawyers (served as director).
Teaching, Related Activities:
Faculty, Calif Judicial College (CJER), Berkeley, 1992 ("Civil Procedure and Case Management").
Lecturer: Calif Western School of Law, 1986 ("Products Liability")
Lecturer: San Diego State University, 1975-80 ("Business Law").
Acting Dean of Student Activities, San Diego State College, 1971-72.
Activities Advisor, San Diego State College, 1968-71.
Member, Board of Trustees, California Western School of Law.
Director, San Diego Inn of Court; master of the American Inns of Court, Enright Chapter.
Other Facts:
Married John L. Haller (attorney; now partner, Brown, Martin, Haller & McLean) Sept 2, 1967 in Los Angeles.
Two children, a daughter and a son.
Republican (former Democrat).

LINKS
Thumbnail Biography (Secretary of State website)
Thumbnail biography (Judicial Council website)



Hit "BACK" or click on hyperlink below
LawZone Judges Page
LawZone Opening Page
Metropolitan News Company Homepage