It was common for actors to gain fame on radio, then move on to television, and succeed in that medium. E.G. Marshall did it the other way around. And he's probably the only major actor who did.
Marshall was hardly an unknown when he landed the role of Lawrence Preston (the father in a father-and-son team of lawyers) in television's "The Defenders," a series launched in 1961 which had a four-season run. He had appeared prior to that on the stage, on radio, and in motion pictures — his most notable movie role being that of a Juror No. 4 in Twelve Angry Men (1957). And he had appeared in more than 400 television presentations, many of them live, on such shows as "Playhouse 90," "Kraft Television Theater," " LIghts Out," "Hallmark Hall of Fame," "Actors Studio," "Philco Television Playhouse," and "Shirley Temple's Storybook." It was, however, his starring role as Lawrence Preston in the stirring and controvery-laden Saturday night TV drama on CBS that earned him the status of a star.
He won Emmys in 1962 and 1963 for his impressive portrayal of the elder Preston.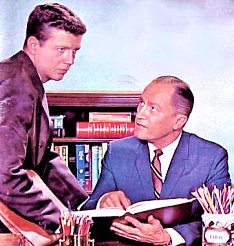 Marshall, right, is pictured with co-star
in "The Defenders," Robert Reed.
Marshall had roles in other TV series after that: in "The Bold Ones" (from 1969 to 1973 as Dr. David Craig in the "The New Doctors" segments) and "Chicago Hope" (in 1994, as Dr. Arthur Thurmond).
But it was on radio that he was to endear himself most to the American public in his post-"Defenders" years. He was the host and occasional star of the last dramatic series on commercial radio — and one of the worthiest series in the history of that medium — "The CBS Radio Mystery Theater."
Nightly (seven days a week for the first six years, then five days a week), Marshall greeted us — after the creeking door opened and we entered his domain — with the words, uttered ominously: "Come in. Welcome." And, after an oft-scary offering, he would wish us, "Pleasant dreeaamms?"
He served as host from the outset of the series, on Jan. 6, 1974, until its final year, 1982, when Tammy Grimes became his successor on Feb. 1.
In 1997, Marshall reprised his role of Lawrence Preston in a Showtime movie, "The Defenders: 'Payback.' " The script reflected the death of his law partner-son; in real life, co-star Robert Reed, who played that part, had died May 12, 1992.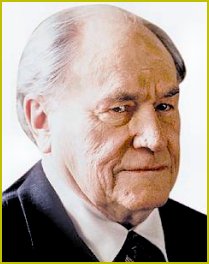 Marshall again portrays
Lawrence Preston.

A second reprisal, "The Defenders: 'Choice of Evils'," was aired by the cable network the following year.
That was to be his final performance. Marshall died of lung cancer on Aug. 24, 1998.
While the date of his death was certain, the date of his birth was left in doubt by the obituaries. Most of them noted that published sources said that Marshall was born June 18, 1910, but that the actor had told The Associated Press the previous year that the year was actually 1914. Social Security records verify Marshall's statement.
Doubt was also reflected as to his given name. News reports said that it was thought in earlier years his true name was Edda Gunnar Marshall, but that in later years, it appeared that it was Everett Gunnar Marshall.
Whatever name he was given by his Norwegian American parents when he was born in Owatonna, Minn., he became E.G. Marshall. That was the name on his Social Security card. That was the name he was known by throughout the world.