THE "SIREN OF THE FJORDS"
---
On May 17, 1911, as Norway was jubilantly celebrating its Constitution Day, two Norwegian citizens were born in Flatbush, a sector of Brooklyn, New York. They were twins.
The birth of twins is, in itself, uncommon. That one child would be a male and the other a female is an exceedingly rare occurrence. That a male twin and a female twin would each gain worldwide attention, each associated with accomplishments disparate from that of the other, might well be unprecedented.
The boy was Knut Haukelid . He was to become a leader of the Norwegian underground during World War II and is given major credit for blocking the Germans from producing and shipping "heavy water," essential to their objective of developing the atomic bomb. His exploits were depicted in the 1965 movie, "The Heroes of Telemark."
The daughter, born to Bjørgulv and Sigrid Haukelid, was never depicted in a movie. Rather, her destiny was to star in movies. Sigrid Guri Haukelid was to become Sigrid Gurie.
At the time the twins were born, their father, Bjørgulv Haukelid, was working as a civil engineer with the New York Subway System, a job he had held since 1902. He left that job when the twins were less than a year old, and the Hauklids set sail for Norway. Sigrid was to be educated in Norway, Sweden and Belgium.
In 1936, she arrived in Hollywood. While Norwegians, from Leif Ericson to Sally Ride, have been known as "discoverers," Sigrid Gurie was a "discoveree"; film magnate Sam Goldwyn took credit for discovering her. He billed her as "the siren of the fjords," and proceeded to cast this Norwegian beauty as — what else? — a Chinese princess. She starred with Gary Cooper in the 1938 production of "The Adventures of Marco Polo."

---
Below: two fan magazines featuring Gurie and Cooper
on the cover; a still from their movie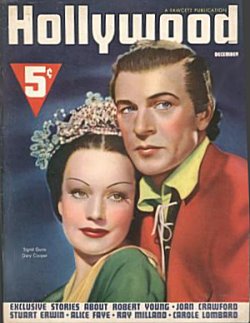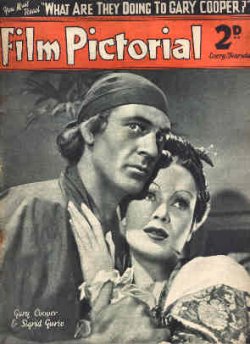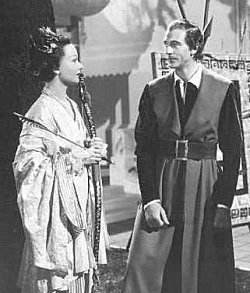 ---

Sigrid Gurie's "overnight stardom," her fall from grace with Goldwyn in the aftermath of a distorted press revelation, and her second career are chronicled by her third cousin, LaVonne Houlton, of Modesto, California, who writes:

Unlike most of the foreign stars who came to Hollywood in the 1930's, Sigrid Gurie had not been an actress in her homeland before arriving in the film capital. Instead, she was a talented young artist, studying at the Sorbonne in Paris, when she was spotted by an agent for Samuel Goldwyn at an art show, and was offered a role in pictures.

Goldwyn introduced Sigrid as his beautiful "find" from Norway — and promptly mis-cast her in her first two films, both released in 1938. In "The Adventures of Marco Polo" she was a Chinese princess opposite Gary Cooper's unlikely Venetian explorer. In "Algiers," she portrayed Charles Boyer's Algerian mistress. Still, early on she had leading roles in pictures with stellar casts and great promotion.

Much changed, however, when the press leaked the information that Sigrid Gurie was born in Brooklyn. The difficult Mr. Goldwyn lost all interest in his rising star at that point. The fact that she had returned to Norway as an infant, and that she had come back to the United States under a Norwegian passport couldn't overcome Goldwyn's pique at this "bad press." Sigrid Gurie made 10 films between 1938-1948, and the last one in which she played opposite a major Hollywood star was in "Three Faces West" (1940), with John Wayne.



Gurie co-starred with John Wayne
in "Three Faces West"



As an aside, there was a movie made in 1943 that would have been perfect for Sigrid Gurie, had it been offered to her. This was John Steinbeck's "The Moon is Down," an excellent drama about Norway's invasion by Nazis, and the effect that had on the people involved. For a young woman, far from home, whose family were undoubtedly at risk, the war years were a frightening time, and it seems quite certain that Sigrid could have played the female lead superbly, but it went to another.

Art continued to play a major role in Sigrid's life. In 1948-1949 she attended the well-known Kann Institute of Art, on Melrose Avenue in West Hollywood, studying oils and portraiture. Among her works were landscapes, portraits and pen and ink sketches. A portrait of Sigrid's step-daughter, Lynda Abbott, at age 14 once hung in the Santa Barbara Museum of Art. Its current whereabouts are unknown.

From 1961-1969 Sigrid lived in the flourishing art colony of San Miguel de Allende in Mexico. Here, she continued painting, and was also designing jewelry for Royal Copenhagen in Denmark at the time she died. She entered the hospital in Mexico City on an emergency basis for a recurring kidney problem, developed a blood clot that passed through her lungs and led to her death. In the strange link that often binds twins together, her brother Knut was hospitalized in Oslo with an embolism, just as he was preparing to fly to Mexico after learning of Sigrid's death. Before he had recovered enough to make the trip, locals stole everything from Sigrid's home, including her car, jewelry and paintings. They stripped the place bare. Apart from paintings owned by the Haukelid and Abbott families, and some pieces known to be in private hands, much of Sigrid Gurie's fine work has just disappeared.

Although she grew up in Norway, Sigrid Gurie is remembered as an American film star, but she was also a thoughtful and caring woman of fine artistic talent, who had many good friends in both the world of Hollywood and in the world of art in America.

Another cousin of the late star, Rolf Hoeiberg, from Porsgrunn, in Telemark, Norway, adds this information:

Sigrid Gurie was in Norway for a little role in the first heavy water picture that was made just after WWII, but the scenes were clipped out so she never became an actress in Norway. (She played an English wireless-operator who fell in love with the heavy-water sabotage leader.)

---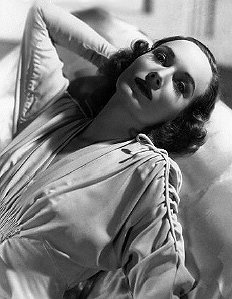 FILMOGRAPHY

The Adventures of Marco Polo (1938)
Algiers (1938)
Rio (1939)
The Forgotten Woman (1939)
Three Faces West (1940)
Dark Streets of Cairo (1941)
Enemy of Women (1944)
A Voice in the Wind (1944)
Sofia (1948)
Sword of the Avenger (1948)