Norwegian American Artist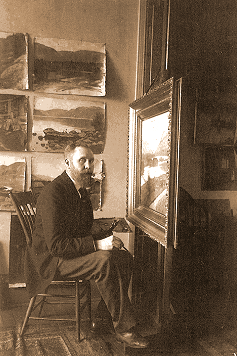 A painter of exceptional talent who appears to have been the first professional artist of Norwegian immigrant origin, Gausta emigrated from Telemark when he was 13. The family settled on a farm near Harmony, Minn.
After leaving Luther College in 1875, he studied in Norway and Munich, spending six years abroad. Many of his paintings now hang in Luther College and in the Vesterheim Museum in Decorah, Iowa. Many churches in the area still have altar paintings which he did.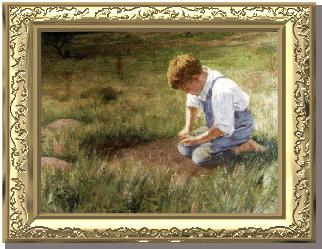 Gausta's "Boy Setting Trap," circa 1905-1908;
in Luther College's Fine Arts Collection.

These works have had a cultural significance for Norwegians in America. Gausta was the first man of his profession in a pioneer Norwegian immigrant society. He left a unique record of early immigrant faces and life in his portraits and genre paintings and established a place for art in the culture of the Norwegians in America.
The photograph of Gausta at work in his studio and the biographical information were provided by his great great nephew, Robert L. Burch of Tulsa, Oklahoma.
CLICK BELOW TO RETURN TO THE...
Copyright, 2000, Roger M. Grace