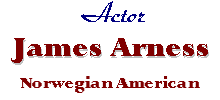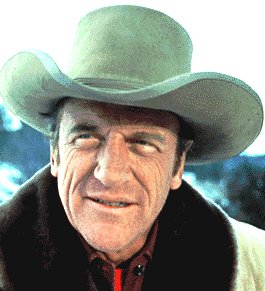 Born in Minneapolis, Minn. on May 26, 1923 as James Aurness, he became known internationally for his portrayal of Marshal Matt Dillon on television's "Gunsmoke," a pioneering "adult western." His brother, Peter, born three years later, was to change his name to Peter Graves, also gaining high achievement as an actor. One of his children, Rolf Aurness (named after James Arness' father), became world surfing champion in 1970 at the age of 18.
Arness' career in show business started in 1945 when he landed a job as a substitute radio announcer substitute radio announcer at WLOL in Minneapolis. He moved to Hollywood the following year, and 1947, bagged a substantial role in "The Farmers Daughter" (which starred Loretta Young). In 1951, Arness appeared in the science fiction thriller, "The Thing," portraying the monster.
He went to work for John Wayne's production company, Bat Jack, and had supporting roles in thee of Wayne's movies, Big Jim McClain (1952) , Hondo (1953) and The Sea Chase (1955). When the radio show "Gunsmoke" was brought to television, CBS wanted Wayne for the leading role as Marshal Matt Dillon; Wayne declined the job offer, but recommended Arness. A pilot was made in 1953 with Arness as the star, but sans the others who were to appear in what was to become the longest running dramatic series in television history. Gunsmoke was aired from 1955-75, expanding in 1960 from a half hour show to an hour program.
From 1976-79, Arness starred in television's "How the West Was Won," a mini-series. Four Gunsmoke made-for-television movies have aired.